Hey Guys! So today's post is super exciting and I am so glad that it could be possible! Today I am sharing with you an exclusive interview with Kerry from Hero Chic Heels, I have featured some of her designs on this blog before in Etsy lust lists and her designs just amaze me, they're so beautiful!
1. What are your bestselling designs?
Our best selling designs are our comic heels and most recently our bags (these are probably the shoes we are best known for!) as well as the Hello Kitty/Barbie inspired heels.
2. What do you think are going to be the biggest trends for this spring?
I'm noticing a lot of superhero/comic inspired clothing and accessories popping up here and there as well as the continued throwback to the 90's. In terms of shoes, there's been an increased popularity in skates shoes and more grungy styles amongst many fashion bloggers. We're still seeing a lot of cropped clothing, although this spring I think there is going to be more of a focus on cropped outerwear for Spring having seen some of the latest fashion catwalks. The colours we're noticing is a lot of pastel colours and floral designs again but this time toughened up with embellishments and metallic themes. Various shade of pinks and corals are also going to great complementary colours for outfits whether you choose to accessorise this with shoes to bags or lipsticks
3. Do you have any celebrity inspiration for your accessories?
Our shoes tend to have a little bit of a unique style to them so I guess celebrities such as Helena Bonham Carter, Paloma Faith and Gwen Stefani sometimes pop up in our mood boards due to their inspirational styles. Some of our ideas for our next range of shoes have some inspiration from the likes of Zooey Deschanel, Dita von Teese and Katy Perry and their unique styles.
4. How influential are celebrities on your designs?
When we are coming up with a new design, we like to browse Pinterest to create mood boards that highlight current and future trends. There is a lot of focus on what fashion trends celebrities are currently wearing so it's a pretty important part for us to consider this side of fashion when coming up with new designs.
5. What are your personal favourite designs?
Tough question! I love them all! I think my absolute favourites are the comic heels due to the uniqueness each pair has - each customer has their own personal character favourites they want to see on their shoes and it's always great to come up with different ways of combining characters on a pair of heels - this is probably why I love completing each order so much! I also love Hello Kitty so I think our Hello Kitty heels come in at a close second favourite!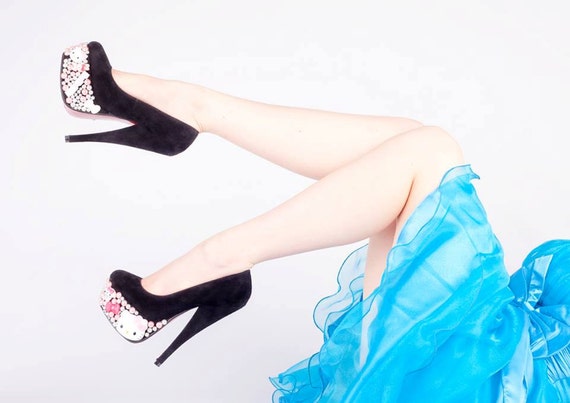 Thank you guys for reading and Thank you Kerry for answering my questions!